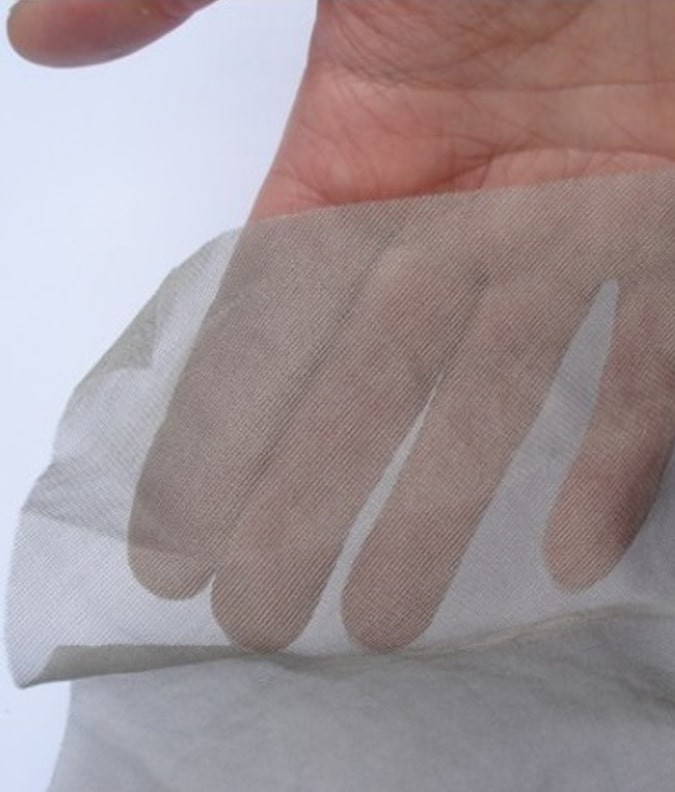 Zoom
Silver SuperShield EMF Shielding Material
EMF-34746
Available
Warning: Last items in stock!
Availability date:
Silver SuperShield EMF Protective Fabric
High transparency Double Silver-plated nylon fabric (24% Silver).
EMF Shielding: 50 dB @ 1 GHz (99.999% shielding).
Very strong and lightweight. Conductive can be earthed.
Applications: EMF Curtains, Shielding Screen, EMF Canopies.
Width 1.4m (+/- 2cm).
EMF Shielding test results: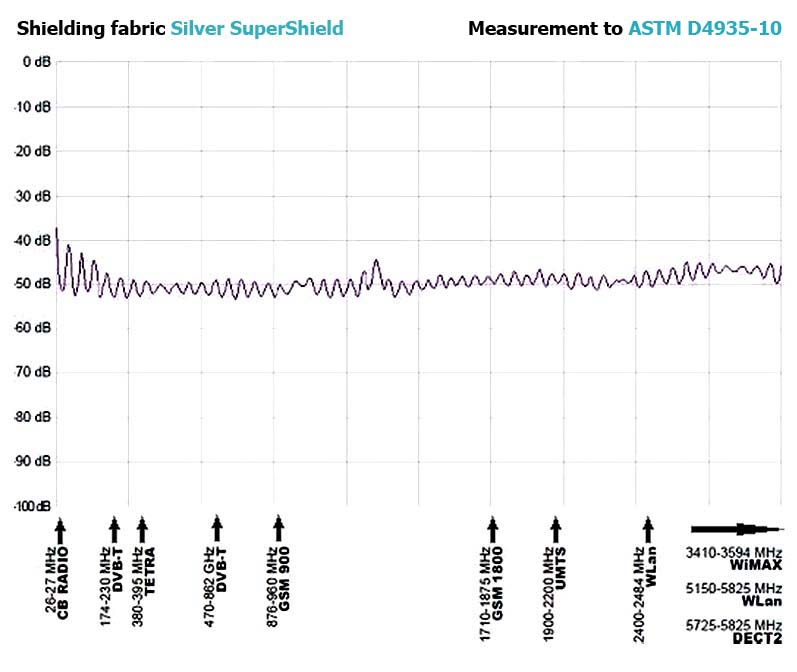 Conformity
This measurement of the screening attenuation of electromagnetic waves from 30 MHz to 18 GHz was carried out in conformity with standard ASTM D4935-10.
Measurement
Measurements were to ASTM D4935-10, IEEE Std 299- 2006, IEEEE Std 1128-1998, ASTM A698/A698M-07, etc. at our manufacturing facility. For quality management purposes, each batch is measured separately.
Measurement System
Measurements are carried out using a professional vector network analyzer Rohde & Schwarz ZNB20 with a 140 dB dynamic range up to 20 GHz.
The antenna for ASTM D4935-10 are modified TEM-cells, that can measure even small samples down to 30 MHz in the far-field. The samples are measured with radial polarisation (all directions, not only horizontal or vertical only), which matches typical forms of environmental exposure. All electrically conductive and thin samples can be measured perfectly with these cells.
Fabric Care:
Do not dry-clean. Machine Wash Only at 30°. Use only Leblok washing powder. (Other detergents MAY have a severe effect on shielding level) Do not handwash. Do not tumble dry. Drip dry. Iron on LOW. Do not bleach.
Silver Supershield Characteristics
1) Silver SuperShield material gains a slight tarnish over time - often the fabric has areas of slight color variation from the start. This is a natural result of the manufacturing process and does not indicate a lack of quality or varying levels of shielding across the material.
If you do not wish to accept stainings or discoloration, please choose shielding fabric Veil or Swiss Shield® Naturell.
2) Silver SuperShield is a durable material that can be machine washed with Leblok washing powder. The shielding level can be compromised by abrasion, rubbing, wringing or overhandling.
3) Our silver fabrics don't contain nano-silver, but a thick pure metallic silver layer.
Updatting...