EMF Protective Sleeping Bag
EPSBSG01
Available
Warning: Last items in stock!
Availability date:
EMF Shielded Sleeping Bag from Steel-Gray Fabric
Size: Width 90 cm, length 220 cm
EMF Protection: 35 dB
Raw materials: 40 % cotton, 30 % polyester, 30 % stainless steel
Surface conductivity: 100-800 ohm (square resistance)
The inner cover ensures comfortable sleep for those who prefer to sleep without nightwear. The elastic cord enables the bag to be tightened if required.
This RF shielding sleeping bag provides high EMF shielding for use both at home and whilst travelling. The zipped sleeping bag has a removable cotton inner cover which is fixed to the liner with a very simple hook and loop system.
The Grey stainless steel fabric construction is very strong, durable and flexible. Although the external cover is rough, the inner cotton liner is very comfortable.
Shielding application type: Low Frequency electrical fields, High Frequency electromagnetic fields.
Screening attenuation: All stated attenuation values apply at 1 GHz. Measurement to ASTM D4935-10 or IEEE Std 299-2006 or IEEEE Std 1128-1998 or ASTM A698/A698M-07. Please see the graph below for screening attenuation.
Grounding: Can be grounded.
Fabric care: Washing at gentle cycle 30°C | Ironing without steam at degree 1 | No drying in tumble dryers | No bleaching | No chemical dry-cleaning | For allergy sufferers: Every new fabric smells, wash before it using. Use only Leblok washing powder.
Color: White, Grey
EMF shielding Graph: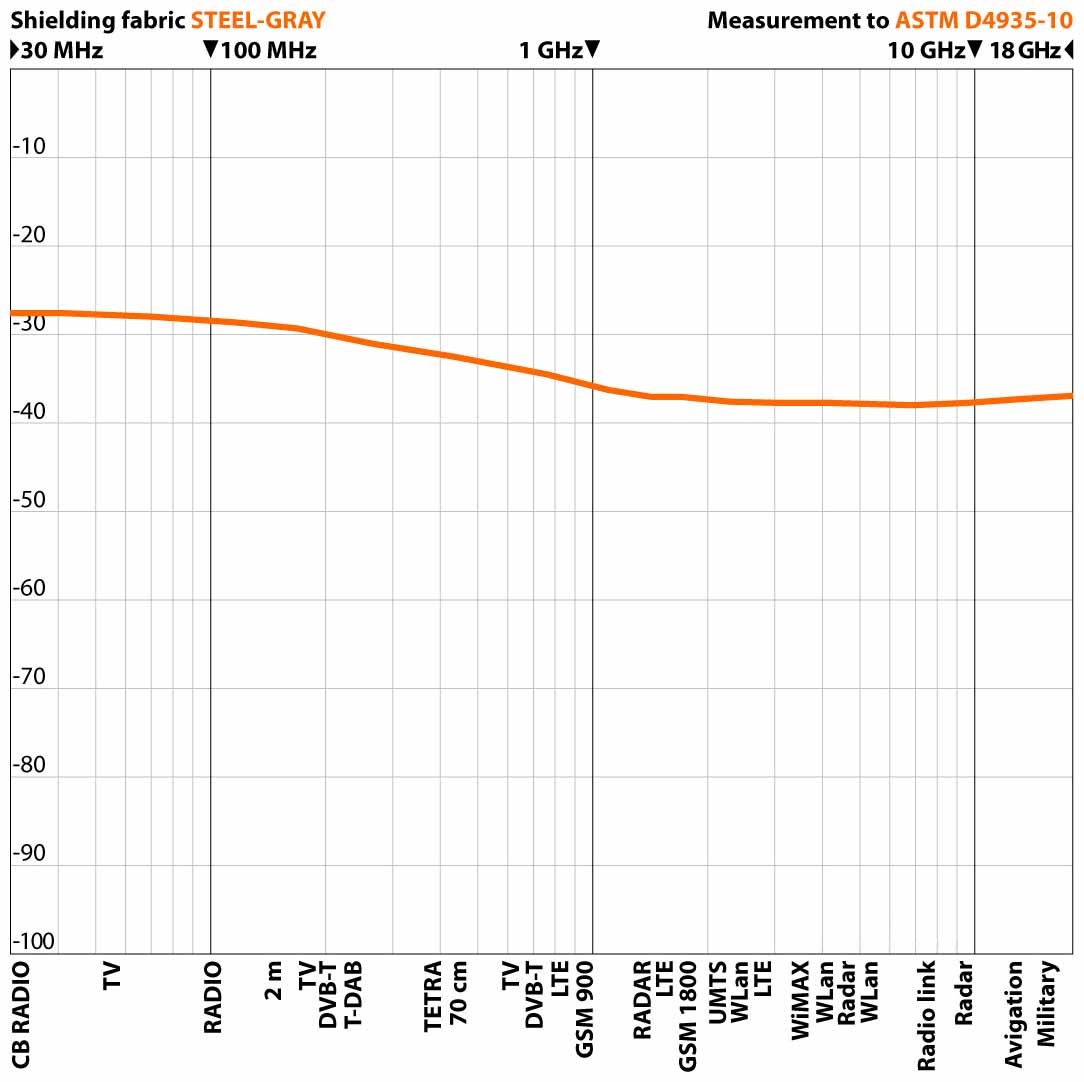 Disclaimer: EMF Clothing Ltd products are designed to provide shielding against EMR. However there can be many environmental and human factors affecting the effectiveness of this product. EMF Clothing Ltd specifically disclaim any and all responsibility for any adverse health effects or any other adverse outcome that may occur whilst using our products, or any effects that may occur, eventuate, manifest or transpire at any time subsequently. Customers should satisfy themselves that the product is suitable and fit for their own particular situation before purchasing.
Updatting...