Zoom
Single Box Shielded Canopy from Silver-Tulle
EMY-35392
Available
Warning: Last items in stock!
Availability date:
Electromagnetic Radiation (EMR) Protective Canopy (Single)
Note: Lead time is 6-8 weeks, plus delivery time
Dimensions: 1.2 m Wide x 2.2m Long x 2.2m High
Material: Silver-Tulle (Attenuation 50 dB at 1 GHz)
High transparency double silver plated nylon fabric (20% Silver)
One entry
Gain more restful sleep by using this EMF protective canopy.
EMF Shielding: 50 dB @ 1 GHz (99.999%)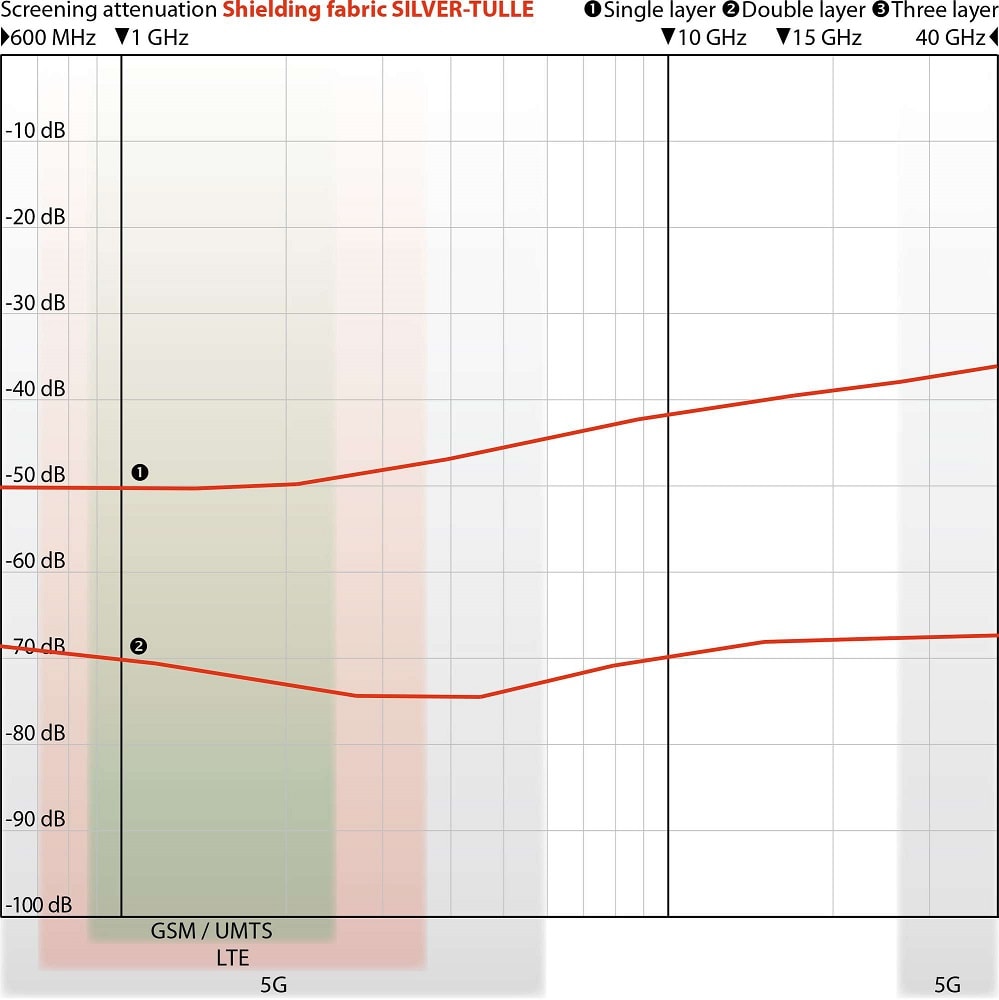 Download Silver-Tulle EMF Shielding Test Report
Material: 80% Nylon, 20% Silver
Surface: Conductive, can be grounded
Fabric care: Washing at gentle cycle 30°C, No ironing, No drying in tumble dryers, No chemical dry-cleaning, No bleaching
Silver-Tulle
1) Silver-Tulle material gains a slight tarnish over time - often the fabric has areas of slight colour variation from the start. This is a natural result of the manufacturing process and does not indicate lack of quality or varying levels of shielding across the material.
If you do not wish to accept stainings or discoloration, please choose canopies made from Swiss-Shield®.
2) Silver-Tulle is a durable material that can be machine washed with Leblok washing powder. The shielding level can be compromised by abrasion, rubbing, wringing or overhandling.
3) Our silver fabrics don't contain nano-silver, but a thick pure metallic silver layer.
Disclaimer: EMF Clothing Ltd products are designed to provide shielding against EMR. However there can be many environmental and human factors affecting the effectiveness of this product. EMF Clothing Ltd specifically disclaim any and all responsibility for any adverse health effects or any other adverse outcome that may occur whilst using our products, or any effects that may occur, eventuate, manifest or transpire at any time subsequently. Customers should satisfy themselves that the product is suitable and fit for their own particular situation before purchasing.
Updatting...