1mm Stainless Steel Shielding Mesh - 0.9m wide (By Meter)
EMY-35118
Available
Warning: Last items in stock!
Availability date:
Stainless Steel 1mm Mesh for Exterior/Interior Shielding
Finely woven, noncorrosive stainless-steel gauze for the protection against high-frequency radiation (HF) and low-frequency electric fields (LF).
Typical application for exterior and or interior under-plaster in upgraded insulations, in roof areas, at drywall constructions, as a flyscreen.
Technical data
Width: 90 cm
Length: by the meter
Attenuation: 40 dB at 1 GHz (two-layer 60 dB)
Mesh width: 1.0 mm
Wire diameter: 0.16 mm
Material thickness: 0.32 mm
Open area: 70 %
Weight: 260 g/m²
Color: Silver
Fire-proof material, A1 according DIN 4102:1994
Surface conductivity: 0.1 Ohm (square resistance)
Grounding
Due to the highly conductive surface, this material can be contacted and grounded easily to shield low frequency (LF) electric fields. For grounding use our Stainless Steel Grounding Tape.
EMF Shielding Attenuation
The shielding attenuation is regularly tested in our partner laboratory in Munich to the standards ASTM D4935-10 and/or IEEE-STD-299-2006. The line in the diagram stands for the radial direction of polarisation (both directions, horizontal/vertical) and indicates the attenuation achievable in practice. You find the test report below.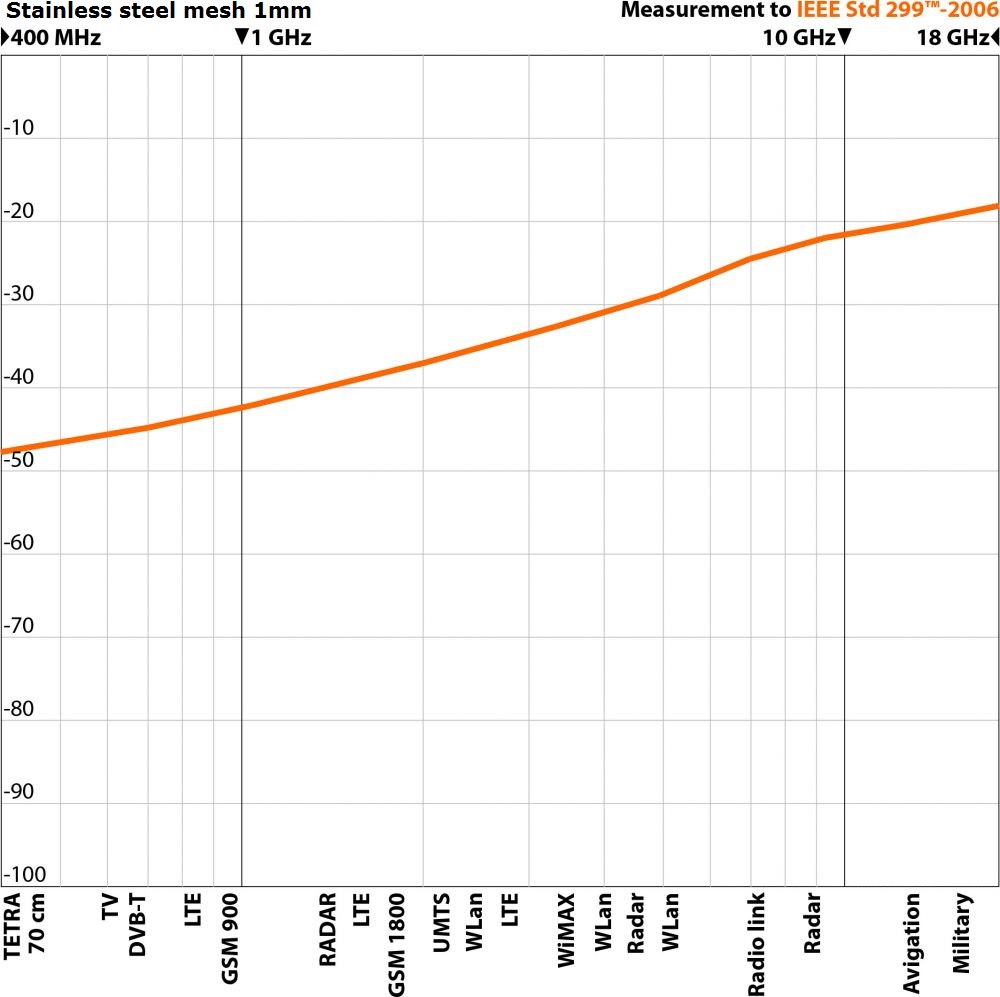 Download EMF Shielding Test Report
Wire Mesh Installation
For installing under the plaster, preferably use a fine and organic filler.
For under-floor covering (laminate, parquet, PVC coating, etc.) the mesh should be fixed with the same adhesive used for the floor covering.
For drywall construction or roof areas, the mesh elements can be bolted or stapled together.
Always overlap the single elements by a minimum of 5 cm (2").
Always ground the wire mesh installation using the following grounding products; screwing it right across the elements into the surface.
https://emfclothing.com/en/grounding/320-grounding-set-for-mcl61.html
https://emfclothing.com/en/grounding/329-stainless-steel-grounding-tape-for-wire-mesh-10m-roll.html
Ensure minimum 5mm (0.2") clearance around all electrical sockets and fittings.
Updatting...