Zoom
Steel-Twin HF and LF Shielding Fabric
EMY-34814
Available
Warning: Last items in stock!
Availability date:
EMF Shielding Fabric Steel-Twin / Width 150 cm / 1 Linear Meter
STEEL-TWIN is a compact Cotton/Stainless Steel fabric for the protection against high-frequency (HF) radiation. Typical application as curtain.
Special feature: The frontside is made of white cotton, while the backside is densely woven with a stainless steel thread. Despite the high attenuation due to the gray stainless steel threads on the backside, this fabric has a light gray front side!
Good screening attenuation, even at high frequencies!

Excellent cost/performance ratio

Contactable (groundable) to shield LF electric fields

Textile characteristics: Washable, easy to iron and process.

Quality grade: Very high
Technical data
Width: 150 cm, +/- 2 cm

Length: Available by the meter

Attenuation: 35 dB at 1 GHz

Color: Frontside light gray, backside silver

Raw materials: 68 % cotton, 16 % polyester, 16 % stainless steel

Weight: 190 g/m²

Dimension stability: +/- 3 %

Surface conductivity: 100-800 ohm / inch (2.54 cm)
EMF Shielding Graph: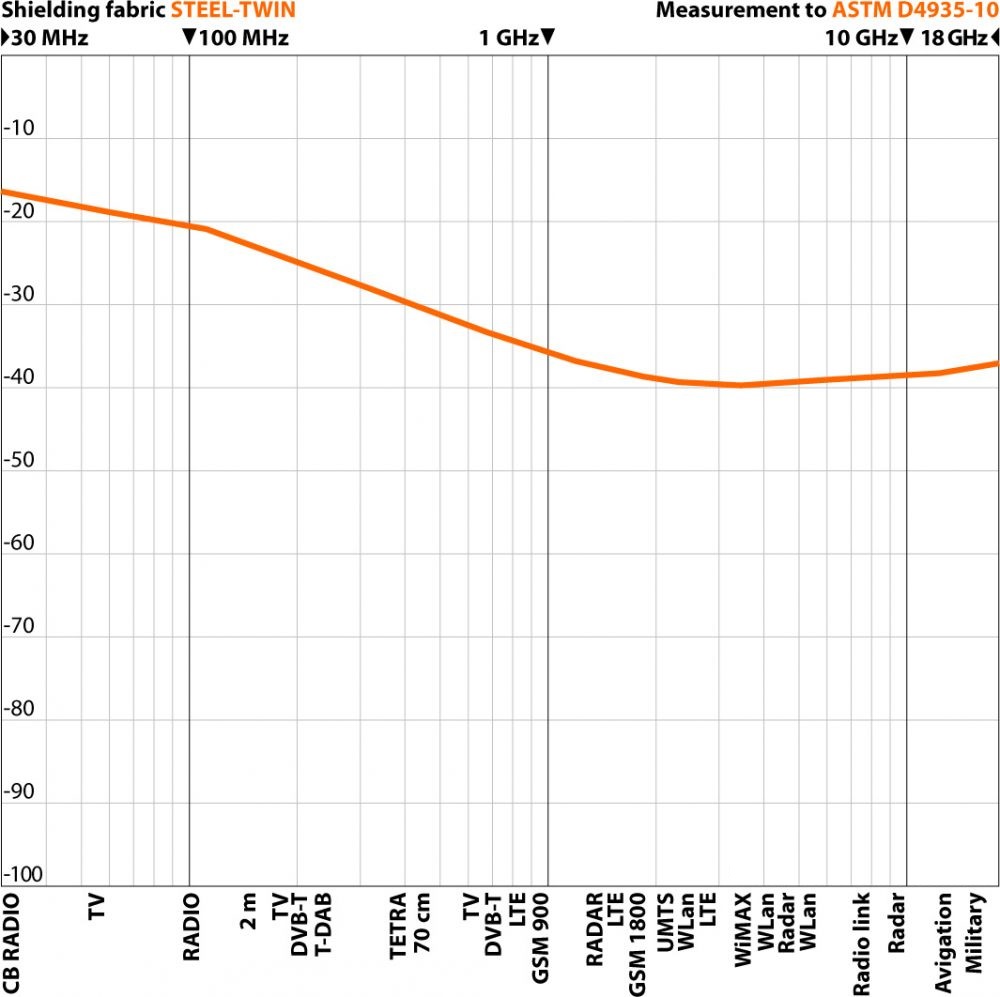 Download EMF Shielding Test Report
Grounding
Due to the surface conductivity this fabric can be grounded to shield low frequency (LF) electric fields. For professional earthing we recommend our Grounding-Plug EST.
EMF Shielding Attenuation
The shielding attenuation is regularly tested in our own laboratory or by Professor Dipl.Ing. Pauli at the University of the German Federal Armed Forces in Munich due to the standards ASTM D4935-10 and/or IEEE-STD-299-2006. The line in the diagram stands for the radial direction of polarisation (both directions, horizontal/vertical) and indicates the attenuation achievable in practice. You find the test report above.
Fabric Care:
Do not dryclean. Machine Wash Only at 30°. Use only Leblok washing powder. (Other detergents MAY have a severe effect on shielding level) Do not handwash. Do not tumble dry. Drip dry. Iron on LOW. Do not bleach.
Fabric Quality
This fabric is woven with a high content of silver- or stainless steel threads. Naturally, we only sell top quality fabrics processed for us in five different weaving mills, each one of them certified according to established norms. However, we cannot guarantee that there are absolutely no defects. We always cut out any visible defects from yard goods and curtains! Tiny defects, such as small flaws in weaving are no reason for complaint. The background to this are the usual high production costs in the textile industry which do not allow us as well as weaving mills to discard large amounts of production batches. We appreciate your understanding.
Updatting...