LF Shielding Fabric Silver Square
EMY-34876
Available
Warning: Last items in stock!
Availability date:
Low Frequency Shielding Fabric SILVER SQUARE
Silver Square is a polyester fabric with a silvered stainless steel filament for the shielding of low frequency electric fields (LF). The perfect fabric for "groundable" products. For bedding, ticks, sheets, chair or floor underlays, etc.. With just 12 dB HF attenuation only limited suitable for HF shielding. Washable, easy to iron and process.
Application: Grounding, Earthing, Reduction of LF fields
Earthing: Electrically conductive. Can be contacted and grounded to shield electric fields (LF). Please find corresponding components under "Grounding". A recommendation here is difficult because this depends on the application. Please ask us!
Fabric Care: Do not dryclean. Machine Wash Only at 30°. Use only Leblok washing powder. (Other detergents MAY have a severe effect on shielding level) Do not handwash. Do not tumble dry. Drip dry. Iron on LOW. Do not bleach.
Field type: LF (Low Frequency)
Ecology: High
Color: White
Technical data
Attenuation LF: 40 dB
Attenuation HF: 12 dB
Width: 225 cm, +/- 2 cm
Raw materials: 98 % cotton, 1 % stainless steel, 1 % silver
Length: Available by the meter
Color: White
Weight: 85 g/m²
Dimension stability: +/- 3 %
Surface conductivity: 800 ohm (square resistance)
EMF Shielding Graph: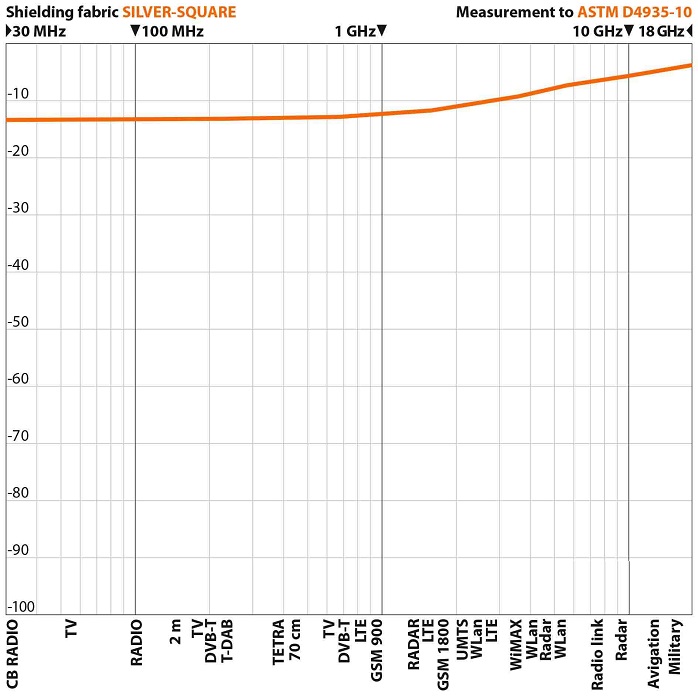 Updatting...