EMF Shielding Fabric Silver Light (HF+LF)
EMY-34869
Out of Stock
Warning: Last items in stock!
Availability date:
Electromagnetic Radiation (EMR, EMF) Shielding Fabric SILVER LIGHT
Silver Light is a transparent fully silvered polyamid knit fabric for the protection against high frequency (HF) and low frequency radiation (LF). Typical application as net curtain, often used as room divider in laboratorys, medical practices, to shield technical devices, etc.
Screening attenuation: Attenuation values applies to 1 Ghz. Measurement to ASTM D4935-10 / IEEE Std 299-2006 / IEEEE Std 1128-1998 / ASTM A698/A698M-07.
Grounding: Electrically conductive. Can be contacted and grounded to shield electric fields (LF). We recommend a plug GP or GD, with a plate GM or GS, plus a cable GC.
Fabric Care: Do not dryclean. Machine Wash Only at 30°. Use only Leblok washing powder. (Other detergents MAY have a severe effect on shielding level) Do not handwash. Do not tumble dry. Drip dry. Iron on LOW. Do not bleach.
Silver products: Silver products will discolor over time, what is no quality defect or a reason for rejection. Silver products have a limited lifetime, what depends on the frequency of movement. We dont use nano-silver.
Application: Window, Curtain, Canopy, Technical, Earthing
Field type: LF (low frequency), HF (high frequency)
Ecology: Normal
Color: Metallic
Special features: 1) SILVER-LIGHT is lighter than SILVER-TULLE and therefore contains less silver. On applications with frequent movement SILVER-TULLE is more stable. 2) Competitors advertise exactly this material with 48-50 dB attenuation, whats wrong. SILVER-LIGHT has 40 dB, however what's an excellent value for such a light and thin knit fabric.
High transparency at high screening attenuation
Contactable (groundable) to shield LF electric fields
Textile similar characteristics: Washable, easy to process. Exception: Do not iron.
Quality grade: High
Technical data
Attenuation: 40 dB
Raw materials: 80 % polyamide, 20 % silver
Width: 145 cm, +/- 2 cm
Length: Available by the meter
Color: Brown
Weight: 30 g/m²
Dimension stability: +/- 1 %
Surface conductivity: 1.6 ohm / inch (2.54 cm)
EMF Shielding Graph: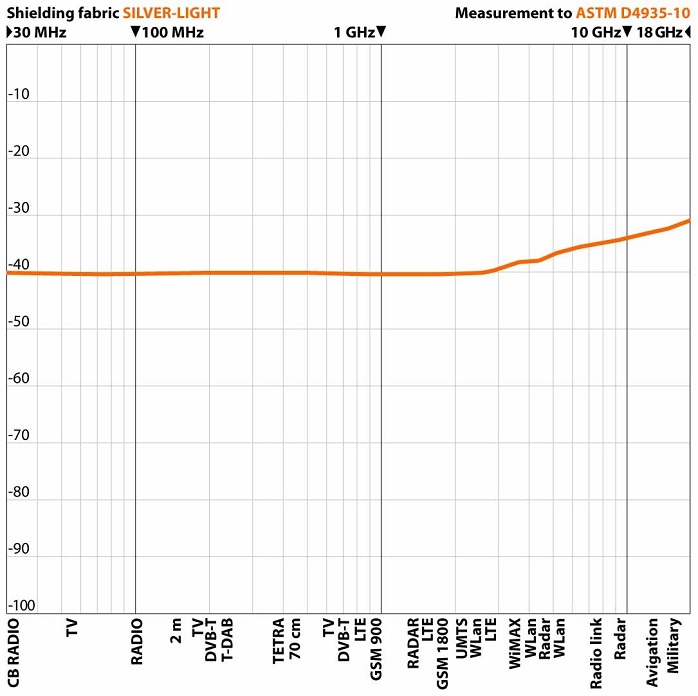 Updatting...