HF and LF Shielding Fabric Steel Gray
EMY-34852
Available
Warning: Last items in stock!
Availability date:
EMF Shielding Fabric STEEL GRAY
Steel Gray is a compact cotton/polyester/stainless-steel fabric for HF+LF shielding. Typical application as curtain, floor mat, blanket, to incorporate in furniture (beds), room dividers, or with reservations as low priced clothing or bedding.
Screening attenuation: Attenuation values applies to 1 Ghz. Measurement to ASTM D4935-10 / IEEE Std 299-2006 / IEEEE Std 1128-1998 / ASTM A698/A698M-07.
Grounding: Electrically conductive. Can be contacted and grounded to shield electric fields (LF). We recommend a plug GP or GD, with a plate GM or GS, plus a cable GC.
Fabric Care: Do not dryclean. Machine Wash Only at 30°. Use only Leblok washing powder. (Other detergents MAY have a severe effect on shielding level) Do not handwash. Do not tumble dry. Drip dry. Iron on LOW. Do not bleach.
Information Fabric quality: We only sell top quality fabrics! However, due to the high production costs and in favor of a reasonable retail price, tiny defects (e.g. a flaw in weaving) are no reason for complaint. We appreciate your understanding.
Application: Window, Curtain, Textile products, Earthing
Field type: LF (low frequency), HF (high frequency)
Ecology: Normal
Color: Gray
Important: For clothing the steel threads aren´t as soft on the skin as of silver fabrics, it feels like a scratchy woolen sweater. Tip: Wear a pyjama in bedding or a sleeping bag made from Steel-Gray, then nothing scratches! Or use it as under-bedding.
Good screening attenuation, even at high frequencies!
Excellent cost/performance ratio
Contactable (groundable) to shield LF electric fields
Textile characteristics: Washable, easy to iron and process
Quality grade: Very high
Technical data
Attenuation: 35 dB, two-layer 50 dB
Raw materials: 40 % cotton, 30 % polyester, 30 % stainless steel
Width: 150 cm, +/- 2 cm
Length: Available by the meter
Color: Gray
Weight: 120 g/m²
Dimension stability: +/- 3 %
Surface conductivity: 100-800 ohm (square resistance)
EMF Shielding Graph: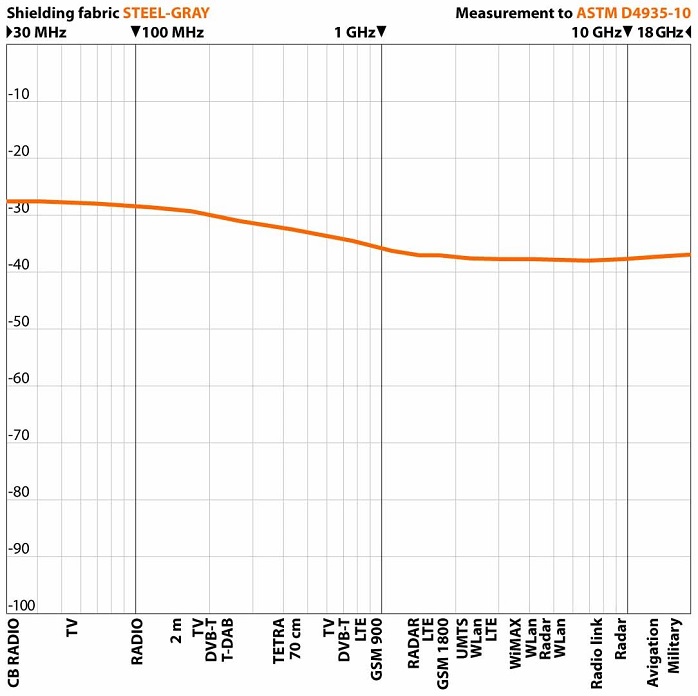 Updatting...