HF and LF Shielding Fabric Silver Silk
EMY-34838
Available
Warning: Last items in stock!
Availability date:
EMF Shielding Fabric SILVER SILK
Silver Silk is a silvered parachute silk / nylon fabric for the protection against high-frequency (HF) and low-frequency radiation (LF). Typical application preferable in technical applications to shield cables, handy bags, room divider, etc.. Due to the good washablity even sewable in the inside of articles of clothing.
Very high screening attenuation
Antiseptic due to the full silver plating
Contactable (groundable) to shield LF electric fields
Textile similar characteristics: Washable, easy to process. Exception: Do not iron.
Quality grade: High
Screening attenuation: Attenuation values applies to 1 Ghz. Measurement to ASTM D4935-10 / IEEE Std 299-2006 / IEEEE Std 1128-1998 / ASTM A698/A698M-07.
Earthing: Electrically conductive. Can be contacted and grounded to shield electric fields (LF). We recommend a plug GP or GD, with a plate GM or GS, plus a cable GC.
Fabric care: Washing at gentle cycle 30°C, Do not iron, Drying at low temperatures, No bleaching, No chemical dry-cleaning.
Silver products: Silver products will discolor over time, what is no quality defect or a reason for rejection. Silver products have a limited lifetime, what depends on the frequency of movement. We dont use nano-silver.
Application: Clothing, Technical, Earthing
Field type: LF (low frequency), HF (high frequency)
Ecology: High
Color: Metallic
Technical data
Attenuation: 60 dB, two-layer 76 dB
Raw materials: 80 % nylon, 20 % silver
Width: 130 cm, +/- 2 cm
Length: Available by the meter
Color: Silver
Weight: 45 g/m²
Surface conductivity: 0.2 ohm / inch (2.54 cm)
EMF Shielding Graph: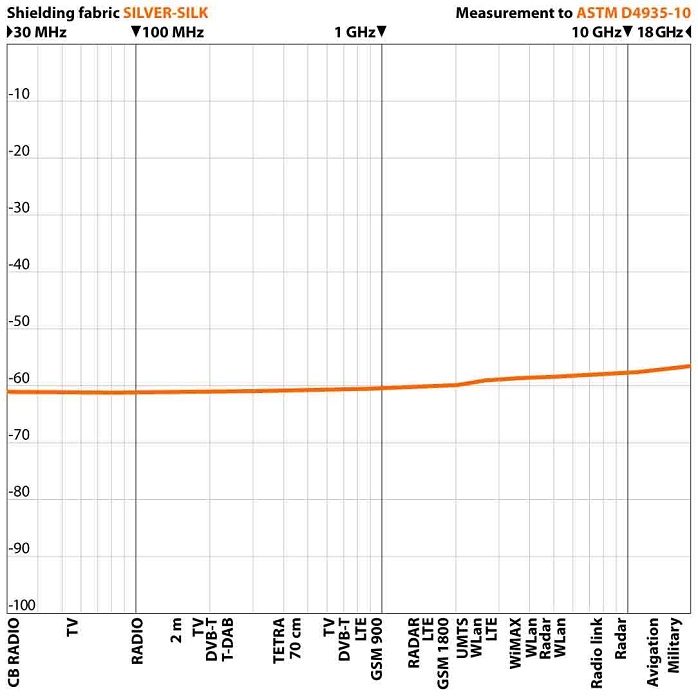 Updatting...