HF and LF Shielding Fabric Organic Stripe
EFOS01
Available
Warning: Last items in stock!
Availability date:
Electromagnetic Radiation (EMR, EMF) Shielding Fabric ORGANIC STRIPE
ORGANIC STRIPE is a white/beige striped ecological voile-fabric for the shielding of high frequency radiation (HF) and low frequency electric fields (LF). Typical application as elegant net curtain or to sew a bed canopy. Compared to Swiss Shield® Voile, this fabric has a high tendency to wrinkle and crease.
Screening attenuation: Attenuation values applies to 1 Ghz. Measurement to ASTM D4935-10 / IEEE Std 299-2006 / IEEEE Std 1128-1998 / ASTM A698/A698M-07.
Grounding: Electrically conductive. Can be contacted and grounded to shield electric fields (LF). We recommend a plug GP or GD, with a plate GM or GS, plus a cable GC.
Fabric Care:
Do not dryclean. Machine Wash Only at 30°. Use only Leblok washing powder. (Other detergents MAY have a severe effect on shielding level) Do not handwash. Do not tumble dry. Drip dry. Iron on LOW. Do not bleach.
Application: Window, Curtain, Canopy
Field type: LF (low frequency), HF (high frequency)
Ecology: Very high
Color: White, Beige, Striped
Special features: 1) Because of the unprotected silver thread, this fabric is electrically conductive and therefore groundable, whats perfect for bed canopies. 2) Just because of this unprotected silver thread, the washing and movement stability is not so high as with SwissShield® Voile.
High transparency at high screening attenuation
Very elegant ecological appearance
High tendency to wrinkle and crease
Textile characteristics: Washable, easy to iron and process
Quality grade: Very high
Technical data
Attenuation: 35 dB @ 1 GHz
Raw materials: 34 % Newlife® polyester, 33 % organic cotton, 22 % copper, 9 % organic linen, 2 % silver
Width: 300 cm, +/- 2 cm
Length: Available by the meter
Color: White/beige striped
Weight: 90 g/m²
Dimension stability: +/- 1 %
EMF Shielding Graph: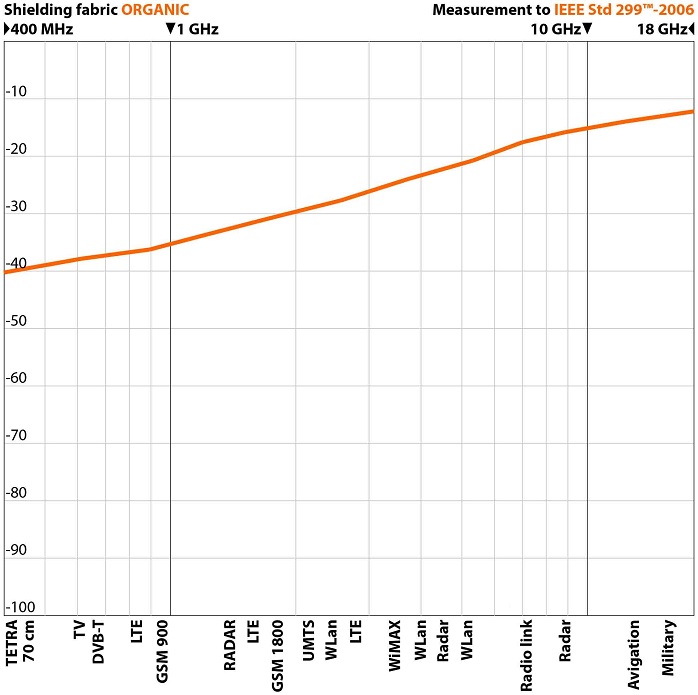 Updatting...