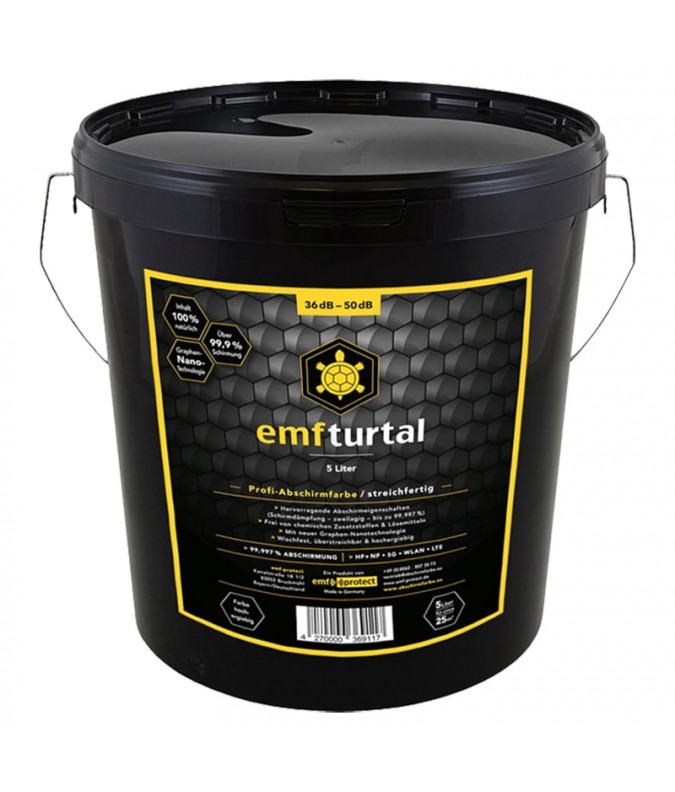 Zoom
5G Shielding Paint EMF-Turtal 5L (Outdoor)
TUR-69124
Warning: Last items in stock!
Availability date:
Professional EMF Shielding Paint - 5 Liters (Outdoor Use)
Genuine 5G shielding paint - shields up to 60dB at 40GHz
100% natural ingredients, free of chemical solvents
Specially designed for outdoor use
Smudge-proof, everpaintable & high-yielding
Our shielding paints based on carbon have many advantages, radio exposure of mobile
phones, mobile Internet, 5G, WLAN, DECT, GSM, LTE, etc. are shielded up to 50 dB which
corresponds to an effectiveness of 99.997%. Electric fields from house electricity (alternating
current) are earthed and can be fully shielded. We recommend to always paint two layers.
EMFTURTAL must be earthed!
The shielding level is regularly tested in an independent laboratory by professor Dipl.Ing. Pauli at the University of the German Federal Armed Forces in Munich due to the standards ASTM D - 4935-10 and IEEE 299-06.
Range of application (yield): Inside (20-25 m²)
Substrate: For interior use, excellent adhesion on almost all substrates such as old paint coats,
plasterboard, wallpaper, plaster, concrete, wood, etc.
Top coat: Can preferably be recoated with emulsion paints, silicate emulsion paints, facade paints
or silicone resin paints. We do not recommend pure mineral paints (clay, lime, pure silicate).
Specific product recommendations can be found in the technical data sheet. Due to the high
adhesive tensile strength it can be used directly under purely organic plaster, no mineral plaster!
Grounding: Must be earthed! For indoor use we recommend the earthing tape from our shop plus
earthing plug.
Ingredients: Binders, graphite, carbon, graphene, additives.
Technical data: VOC content: 0.2 g/l (the EU limit value for category A/a is 30 g/l from 2010).
Adhesion tensile strength: 2.2 N/mm² Storage stability approx. 6 months. Colour: Graphite black.
Storage stability: 6 months.
Colour: anthracite grey
Advantages of EMF-TURTAL shielding paint ready for coating The advantage of EMF-TURTAL
is, among other things, the unbeatable price-performance ratio and the use of new graphene
technology.
Since we rely on the latest patented technology, the shielding properties of EMFTURTAL are at the highest level with up to 50 dB. For ecological reasons, we deliberately avoid
chemical ingredients such as antifreeze and solvents.
A further advantage is that EMF-TURTAL
shielding paint can be easily applied by anybody with a standard paint roller.
Updatting...