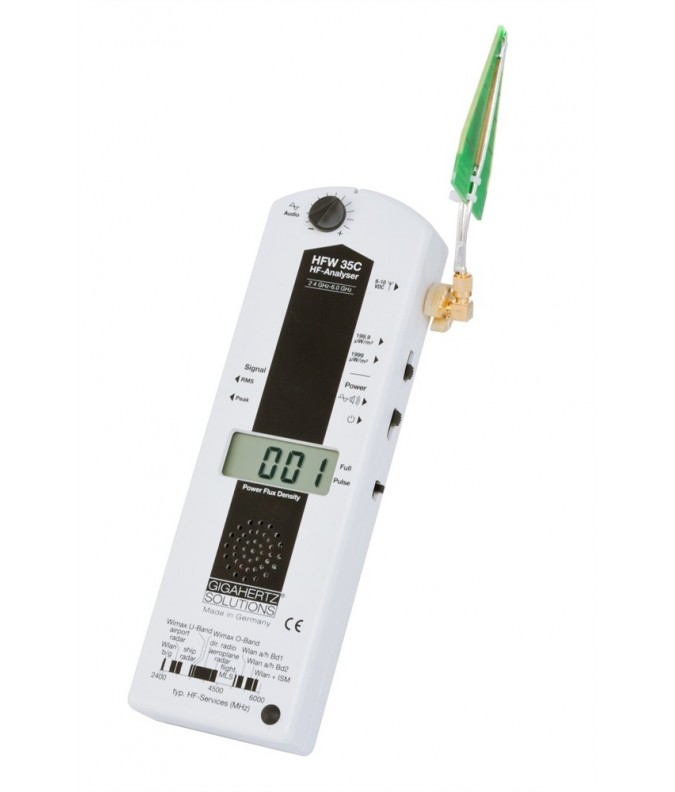 Zoom
Wi-Fi Meter HFW35C
GMHFW35C
Available
Warning: Last items in stock!
Availability date:
Gigahertz Solutions Wi-Fi Meter 2.4 GHz - 6 GHz
Widens the range of analysis up to 6 GHz.
The "common advantages" are fulfilled by this instrument for the specified frequency range. As simple to operate as the HF35C. Its functions and features are tailored to the needs and practical experiences of the building biology.
Due to its comparably low price, it is often also used by computer retailers, authorities and industry for dimensioning of WLAN-networks.
Functionality similar to the HF35C, however:
Frequency range from 2.4 to 6 GHz.
A special device suitable for the measurement of radiation caused by wireless applications / computer networks, including the new standards (Bluetooth, WLAN, WiFi), also covering the WiMAX-frequencies auctioned off in 2006.
It comes with an especially aligned log.-per. antenna with excellent directivity (Patent pending: AZ 10 2006 051 180.8 ).
It suppresses frequencies from mobile radios and DECT by means of a steepsided high pass filter integrated into the antenna to avoid falsified measurements of the frequency range from 2.4 to 6 GHz.
The instrument is equipped with the switch of the professional line for quantitative differentiation between pulsed and un-pulsed radiation.
Technical data:
Frequency Range:

2.4 - 6.0 GHz

Measurement Range:

Power flux density: 0.1 - 1999 uW/m²

Accuracy:

Basic accuracy including linearity tolerance : +/- 6dB
Zero offset and rollover +/- 9 digits

Sensor:

Optimised logarithmic periodic antenna with frequeny compensation directly on the antenna, better directionality

Audio Analysis:

Identification of pulsed radiation sources (mobile radio (GSM, UMTS/G3), cordless telephones (DECT), WLAN (Bluetooth), air-traffic control radar) by means of an acoustic signal proportional to the modulation frequency

Electric power supply:

9 Volt alkaline manganese battery (included), average operation time 6 - 7 hours
Low-Batt. indication, auto-power-off

Signal Rating:

Display of peak value as well as average value (switchable)
A quantitative differentiation between pulsed and un-pulsed radiation - a unique feature within the broadband measuring technology

Weight:

0,45 kg
Scope of delivery:
Measurement device
Attachable log.-per. antenna incl. cable
Alkaline manganese battery
Detailed instructions manual with factual background information
Updatting...