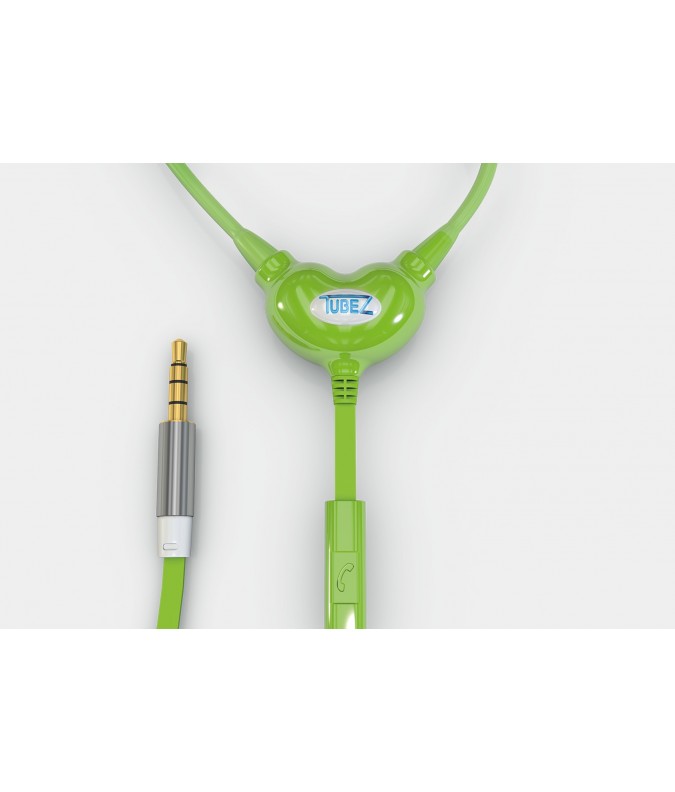 Zoom
Radiation Free Air-Tube Headset EchoTubeZ®
Available
Warning: Last items in stock!
Availability date:
Electromagnetic Radiaton (EMR, EMF) Free Air-Tube Headset
This radiation free air-tubes headset EchoTubeZ® prevents 98% of your mobile phone or smartphone EMF radiation emission from reaching your head. It has a built-in microphone and mute button, you can use this air tube headset for phone calls or listen to music.
The sound conduct hollow air tubes are made of premium quality silicon without electric wires and use only sound waves.
Download Air-Tube Headset EMF test report
Comes with changeable earbuds in S, M, and L sizes. Automatically shaping to your ear profile they are comfortable even during vigorous exercise. Stereo acoustic headphone technology produces high quality wide-range sound with a signal ratio of 95dB.
Clip style, you can wear comfortably around your neck.
Remote control module on the headset allows you to play, skip, answer and end a phone call.
Compatible with most mobile phones, smartphones, iPads, tablet PCs, computers and Mp3 players that have a 3.5mm connector. See full list:
Apple : iPhone 1st Gen, 3G, 3GS, 4 - AT&T, 4 - Verizon, 4S, 5
Apple iPad: 1, 2, 3 / New iPad
Apple iPod Nano: 1st Generation, 2nd Generation, 3rd Generation, 4th Generation, 5th Generation, iPod Shuffle 1st Generation, 2nd Generation, iPod Touch 1st Generation, 2nd Generation, 3rd Generation
Apple iPod: 1st Generation, 2nd Generation, 3rd Generation, 4th Generation (Photo) / (Colour Display), 4th Generation U2 Special Edition: iPod Classic 160GB (2007), 160GB (Late 2009), 80GB / 120GB, iPod Mini 4GB / 6GB
Apple iPod Video: 30GB, 60GB / 80GB, U2 Special Edition
Archos: AV100 Series AV120, AV140, AV300 Series AV320, AV340, AV380, AV400 Series AV4100, AV420, AV440, AV460, AV480, AV500 Series AV500, AV510, AV5100, AV530, AV540, AV560, AV580, AV700 Series AV700TV, AV7100, AV740, AV760, AV780, Gmini XS100, XS200, XS202, XS202S, 104, 105, 120, 204, 400, 402, 402 Camcorder, 404, 404 Camcorder, 405, 500, 504, 530, 540, 560, 604, 604 WiFi, 605 WiFi, 704 WiFi, 705 WiFi, PMA 400 Series PMA420, PMA430
Amazon: Kindle Fire, Kindle Touch
Blackberry: Bold 9000, 9650, 9780, 9900, 9930, Curve 8300, 8310, 8320, 8330, 8900, 9330 3G, PlayBook, Pearl 8110, 8120, 8130, 9100 3G / Pearl 2, 9105 3G / Pearl 2, Pearl Flip 8220, Storm 9500 Thunder, Style 9670, Torch 9810, 9850, 9860, Z10
Dell : Digital Jukebox (DJ), Pocket DJ, Pocket DJ Ditty, Pocket DJ20, Pocket DJ30
Google: Nexus S / Nexus II i9020, Nexus S 4G
HTC : 7 Mozart, 7 Surround / T8788, 7 Trophy 6985, Amaze 4G, Aria, Arrive, Desire HD / Ace, Desire S / Desire 2, Desire Z / G2, Droid Eris, Droid Incredible (Verizon), Droid Incredible 2, Espresso / MyTouch 3G Slide, EVO 3D, EVO Design 4G / Hero S / Hero 4G, HD7 / HD3, HD7s, Hero CDMA, Holiday / Vivid / Raider 4G, Incredible S, Legend, myTouch 4G, MyTouch 4G Slide, One S / Ville, One X, Radar 4G, ThunderBolt 4G, Titan, Touch HD, Wildfire S, Z710e / Sensation 4G / Pyramid
Huawei: Ascend II M865
Kyocera: M9300 Echo
LG : AX585 Rhythm, C900 Quantum, Connect 4G MS840, E739 Maxx Touch, G2x, GD570 Dlite, GT550 Encore, GW370 Neon II, KM555 Shine Touch, KM900 Arena, LN510 Rumour Touch, LS670 Optimus S, LS700 Optimus Slider, LS855 Marquee, Maxx QWERTY, MS690 Optimus M, Nitro HD P930, Optimus 2 AS680, Optimus 2x P990 Star, P500 Optimus One, P505 Phoenix, P506 Thrive, P509 Optimus T, P920 Optimus 3D, Prime GS390, Thrill 4G, US670 Optimus U, US740 Apex, VN270 Cosmos Touch, VS660 Vortex, VS740 Ally, VS750 Fathom, VS840 Lucid, VS910 Revolution, VS920 Spectrum / Revolution 2, VX8370 Clout, VX8560 Chocolate 3, VX9700 Dare
Motorola: AA555 Devour, A957 Droid Pro, Bravo MB520, Charm MB502, Citrus WX445, CLIQ 2, Cliq XT / Zeppelin, Defy MB525, Droid 2 Global A956, Droid 3 XT862, Droid 4 / 4G, Droid Bionic XT875, Droid Razr Maxx XT913 / XT916, Droid X / MB810, Droid X2 Daytona, Flipout, Flipside, i886, MB855 Photon 4G, MB860 Atrix 4G, MB865 Atrix 2, ME 501 Quench, Titanium, XOOM, XT610 Venus Droid Pro, XT701 / XT702 / MileStone, XT720 Milestone, RAZR VE20, ROKR E6, E8, Z Series Krave ZN4
Nokia: C3-01, C6-01, Lumia 710, Lumia 900, X2-01
Pantech: Crossover, Crux
Palm : PPRE, Pre 2 CDMA, Pre 2 GSM, Pre 3, Pre Plus GSM, Treo PRO 850
Samsung : Galaxy S II CDMA SCH-R760 (U.S. Cellular), Galaxy S3 I9300, Galaxy S III I9300 Galaxy S4 I9500, Acclaim SCH-R880, Brightside SCH-U380, Captivate Glide SGH-i927, Captivate SGH-i897, Continuum SCH-I400, Contour SCH-R250, Craft SCH-R900, Dart SGH-T499, Epic 4G SPH-D700, Epic 4G Touch SPH-D710, Eternity SGH-A867, Exhibit 4G SGH-T759, Factor SPH-M260, Fascinate / Mesmerize / Showcase SCH-i500, Finesse SCH-R810, Flight II SGH-A927, Focus Flash SGH-i677, Focus S SGH-i937, Focus SGH-i917, Freeform II SCH-R360, Freeform SCH-R350 / SCH-R351, Galaxy Attain 4G SCH-R920, Galaxy Indulge SCH-R910 / SCH-R915, Galaxy Prevail SPH-M820, Galaxy S4G SGH-T959v, Galaxy S Blaze 4G SGH-T769, Gem SCH-i100, Gravity Smart SGH-T589, Illusion SCH-i110, Infuse 4G SGH-i997, Instinct S30 / Instinct Mini SPH-M810, Instinct SPH-M800, Intercept SPH-M910, Messager III SCH-R570, Nexus S / Nexus II i9020, Omnia 7 GT-i8700, Profile SCH-R580, Replenish SPH-M580, Restore SPH-M570, Rugby Smart SGH-i847, Seek SPH-M350, SGH-F490, SGH-F700, SGH-G810, Stratosphere SCH-i405, Strive SGH-A687, Transform SPH-M920, Trender SPH-M380, Trill SCH-R520, Vibrant SGH-T959, YP Series YP-K3, YP-K5, YP-P2, YP-S5, YP-T10, YP-T55, YP-T7, YP-T8, YP-T9, YP-U1, YP-U2, YP-U3, YP-Z5A, YP-Z5FA, YP-Z5FQ, YP-Z5Q, YP-Z5Z
Sony Ericsson : Vivaz / U5 / Kurara, Vivaz Pro, Xperia Arc X12, X Series X1 Xperia, Xperia Play R800i, X2a
T-Mobile : G2x, myTouch, myTouch 4G, MyTouch 4G Slide, myTouch Q, Sidekick 4G SGH-T839
Updatting...