Zoom
EMF Protective Travel Canopy from Silver SuperShield
TCKSS01
Please call to order
Warning: Last items in stock!
Availability date:
Electromagnetic Radiation (EMR, EMF) Protective Travel Canopy
Dimensions: Bottom circumference 1150 cm, height: 240 cm
Material: Silver SuperShield (Attenuation 50dB at 1GHz)
High transparency double silver plated nylon fabric
Made to order only. Please call +44 (0) 845 8059 030 to order.
This new innovative EMF Protective travel canopy kit from Leblok makes stays in hotels, campsites etc easier.

The canopy comes complete with fixing accessories that enable easy and comfortable use in almost every environment, from hotel rooms to campsites.

Accessory kit comprises 2 magnetic hooks and even luminous guyropes (for easy location in the dark). All complete with a heavy duty canvass bag for easy travel and transport. The bag is made from heavy duty cotton canvas, is 18" long and features a zipped closure.

Complete kit incuding bag: 45cm x 17.5cm x 17.5cm

Weight: 1.7kg

The canopy has no entrances, which ensures higher shielding performance. Simpy lift the edge for an easy exit.
EMR Shielding: 50dB @ 1GHz (99.999%)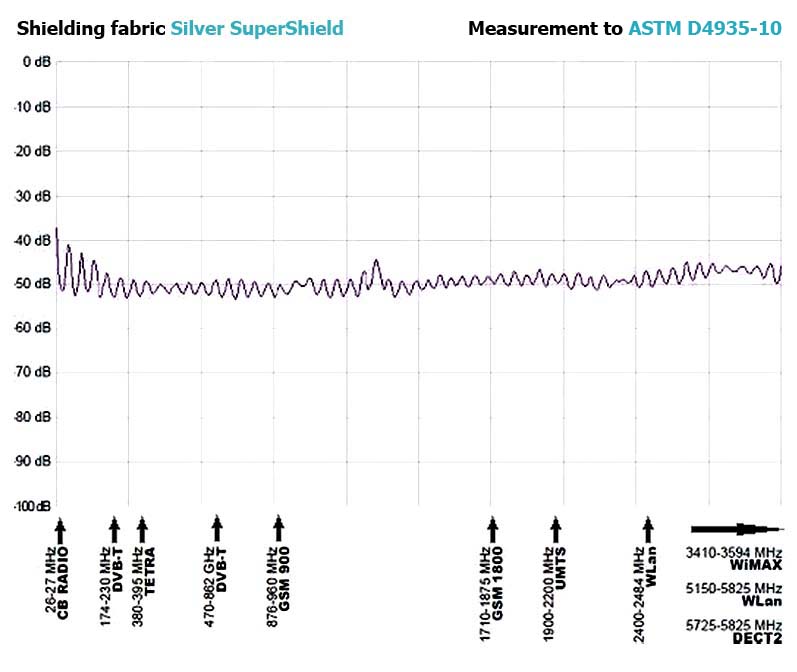 Silver SuperShield
1) Silver SuperShield material gains a tarnish over time. Often the fabric has areas of staining right from the start, this is a natural result of the manufacturing process.
If you do not wish to accept stainings or discoloration, please choose canopies made from Swiss-Shield®.
2) Silver fabrics have a limited durability, which depends on the frequency of movement.
3) Our silver fabrics don't contain nano-silver, but a thick pure metallic silver layer.
Disclaimer: EMF Clothing Ltd products are designed to provide shielding against EMR. However there can be many environmental and human factors affecting the effectiveness of this product. EMF Clothing Ltd specifically disclaim any and all responsibility for any adverse health effects or any other adverse outcome that may occur whilst using our products, or any effects that may occur, eventuate, manifest or transpire at any time subsequently. Customers should satisfy themselves that the product is suitable and fit for their own particular situation before purchasing.
Updatting...